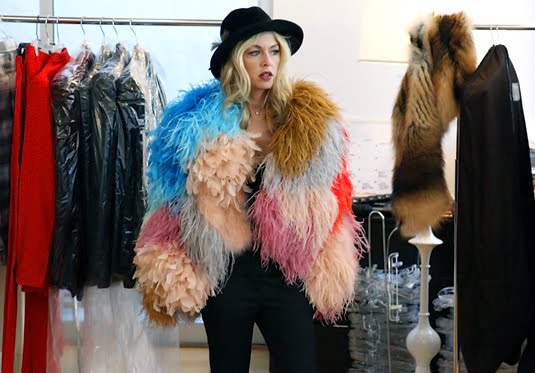 First, how is it 1:39 AM? I swear, mere minutes ago, it was only 11 PM. Oops. I also have a very early (well, early for moi...) morning wake up time tomorrow because I have a very important call at 10. Ah well, c'est la vie. I think I've gotten enough sleep in the past couple months to last me awhile.
Today the temperature barely rose above 70, and despite the on/off rain, I loved every delicious second of it. I met an old friend for (mediocre, of course) Chinese-style Korean noodles, and on my walk home, I decided to drop off my bags in the flat and then head out again. I was in comfy boots and a long cardi and had a great mix going on my ipod. I wanted to keep walking. So I did... I walked all the way to the west side and strolled along the water. It was lovely albeit a bit short-lived (could've been out there for hours!), as I soon felt raindrops on my head (and was sans umbrella). Tomorrow it's back to the 80's, but this short glimpse into Fall had me all kinds of excited. Tonight's episode of RZP did, too.
This summer heat has kept me in a strict uniform of shorts, lightweight tanks, ponytails (yuck), and minimal jewelry. I can't wait for cooler weather and all that entails: boots, shrunken jackets, long boyfriend cardigans, deep crimson lips, long messy hair, leather leggings, my newish hot pink Uggs (soon to be debuted on my Tahoe camping trip in September) and gobs and gobs of jewelry. After being almost 3 months without, I begged my Mom to send me my boxes of jewelry tonight - I'm dying without them! It's all costume jewelry, no doubt, but it's so fun to pile on, n'est ce pas? It's what I adore best about Rachel Zoe (although hers is decidedly not of the costume variety.)
Things I also adore about Fall besides the phenomenal fashion? The crisp air, the changing leaves (which I will finally be able to experience), inevitable long walks in Central Park, the smell of fire (or the smell of my candles which will smell like burning logs), hot coffee, soups and stews, and most importantly, NOT SWEATING. (Seriously, y'all, I have a sweating problem.) I can't
wait
.
What do you look forward to the most about Fall?
P.S. I am obsessed with this look on Drew. That belt? That gently tucked tee? That buttery leather jacket? That ombre hair?? I die.