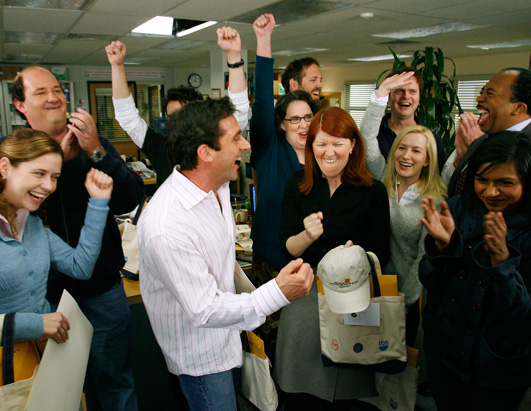 {pretty much how my coworkers reacted when i walked through the door}
Thanks for all the sweet wishes, readers and tweeters! You guys sure are the bestest. :D My first day was AWESOME, albeit uneventful, seeing as I only sat at my desk for about an hour. Most of my day was taken up by training and info and all that. Stuff like 401k's (which made me yawn and my eyes roll back in my head... I
wish
I liked finance stuff) and HMO's and PPO's and sexual harassment and vacation days and all that. Tomorrow is computer training (the office uses Lotus Notes... wth??) and then hopefully I'll actually get to start working.
All in all, I have to same I am pretty stoked. The perks of working at a large NY company are sick!! Car services, gym membership discounts (including my current gym - I nearly jumped out of my seat w/ excitement!), a subsidized in-house cafeteria, free admission to the MoMa, transit discounts... the list went on and on. SWEEEEEET. Also, my technical "hours" are pretty dope, although I have a feeling that I'm going to be working much later than the supposed 5:30 cut-off time - my dept is
quite
busy. Other perks of my new job include:
- working w/ other people around my age
- working w/ people who are not lawyers and are therefore about 100x
less
socially awkward
- a 15-minute commute
- working at a company that insists on stocking every single meeting with TONS of food (this could potentially be a very, very bad thing...)
- having an awesome manager
A few things I need to adjust to...
- not having my own private office (I'm so unsure as to proper cubicle etiquette re: computers, phones, etc. HELP!)
- not having an admin assistant (I know I know... woe is me)
- not being in a small office in which I know everyone (17 floors? I'm going to get hella confused.)
- being super busy (haha, it's true - the flailing economy made work before fairly slow-paced for me)
- not being able to work from home whenever I want (hmm... and I left my old job because...??)
- lame-O office supplies (aka cheap blue/black ballpoint pens, NOT the cool green & purple gel ink pens at my old firm... womp womp)
- NO CELL PHONE RECEPTION (seriously AT&T? i mean... SERIOUSLY??)
BUT, again, it's an entirely new experience, and I'm incredibly excited about it. Because I was too nervous/talkative/whatever to eat all day (despite being provided a TON of food), I came home ravenous and inhaled about 1/2 a pizza as soon as I stepped foot into the door. A couple of hours later, I hit the gym for a run and nearly puked all over the treadmill (gross, huh?), but somehow I survived it and lived to tell the tale.
Tomorrow night is Roomie Deux's birthday, which means marrrgaritas and no gym for me!
Hope y'all had a fab Monday. :D LOVE YOU!!!