Hi, my name is Carolyn, and I suck at yoga. Okay, I know that sentence is wrong on so many levels, but I can't help feeling that way. And it's
frustrating
!!
A little background: I started practicing yoga in the Spring of 2007. My practice was fairly regular that spring and summer, and I even attended Kimberly's yoga retreat in Costa Rica. Unfortunately, I did zero yoga while I was in London (aside from a yoga workshop with David and Sharon from
Jivamukti Yoga
at a Yoga Conference) and found it impossible to maintain a regular practice after returning to the States. Fast forward to now, the Summer of 2009, and me desperately trying to find my way back to the mat.
I've been pretty good for awhile, going to classes 1-2 times a week (which is waaaay better than before). I go to a variety of classes, but they are mostly flow-based. I like heated, i like not heated, i like intense and challenging, and sometimes i just want a 90-minute nap (aka Relaxation Yoga).
I also want loose hips. My hips are unbelievably tight, even more so now that the majority of my workday is spent sitting in a chair. I love love love hip-openers, but my hips? Well, they're not opening. And I find myself wondering, "Will I ever have the hips of a true yogi? Will I ever be able to do double pigeon? Will I EVER manage lotus pose??" I'm so far from that, my friends... so far.
[
Photo: The beautiful (and loose-hipped) Kimberly Wilson
]
Another thing I want? To have a headstand practice. The teacher at the (annoying) yoga class I attended last weekend said that headstand is the most perfect asana pose. (Have no idea as to the validity of that statement...) So we spent a good portion of time working on headstand. I cannot do headstand in the middle of the room, I have to do it against a wall. Although it's getting
better
, I still use momentum to kick up, I can only balance (aka remove my legs from the wall) for mere seconds, and I can't help but wonder, "WILL I EVER GET THIS?"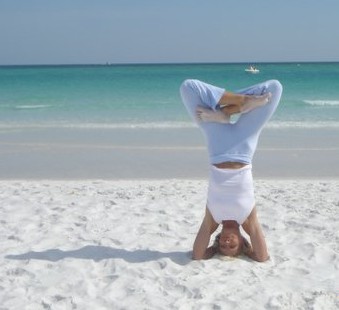 Ditto crow. And handstand? Omg, do NOT get me started on handstand. We "worked" on that in yesterday's class, and I thought I was going to cry. Something about putting all my weight on my hands terrifies moi, and I found myself deeply nostalgic of the days when I did headstands everyday like it was my job (aka grade school years). Where did that fearlessness go? (Btw we also tried forearm stand, which was admittedly easier than handstand, but still terrifying.)
Is this normal? Am I supposed to be feeling like this? Isn't all this worrying and frustration the opposite of yoga?
One more thing - a word on teachers. The last few classes I've attended have straight up
annoyed
me, namely, the instructors annoyed me. First, they were substitutes (aka not the teachers listed on the schedule), which irritated me to begin with. After all, I pick (and PAY) for my yoga classes based on the type of class and the instructor teaching it. Who doesn't? And then, there were other things. Annoying voice, going too fast, going too slow, not enough of this and too much of that. Um, who am I to judge?? I'm no yoga teacher, I've never done yoga training. Sure some teachers are better than others, but again, WHO am I to judge? I always end up feeling tres guilty for all the mean thoughts that run through my mind during class. Again, I ask, is this normal? Am I a terrible person? A terrible yogi?
Boo I just wish I had a Tranquil Space gosh darn it!!!